New Podcasts For Your Ear Holes
Looking for that new podcast to fall in love with or the latest episode from your favourite comedian?
We've got you sorted!
Here are some popular picks and exciting new shows from Australia's funniest, in no particular order:

The Ladies' Guide to Dude Cinema
Comedians Alex Jae & Bec Charlwood review the movies dudes can't believe they haven't seen.
Big Natural Talents
Concetta Caristo and Lauren Bonner talk about their personal lives, the personal lives of celebs, and take everything personally.
The Good Stuff
Comedians Sam Taunton and Tom Cashman chat to their friends (and some acquaintances).
POPGAYS
A pop culture podcast for postmodern queers with Melbourne comedians Jordan Barr, Aurelia St. Clair & Charlie Zangel.
Fitbet with Dilruk Jayasinha and Ben Lomas
Comedians Ben Lomas and Dilruk Jayasinha started a bet. The first to get under 100kgs wins $1000 dollars. Listen to these two mates support and botch each other every step of the way.
The Time Traveller's Guide To Not Dying
Welcome to 2041. Charlie Pickering presents an all-new rollicking time-adventure audio series, featuring Claire Hooper and Frank Woodley.
Wilosophy
Wil Anderson asks smart people stupid questions and tries to find out the meaning of life.
Mates Talking About Stuff
Join Nikki Britton and Harley Breen every Monday and Friday as they tackle the big issues, the small issues, but most importantly, the issues everyone overlooks…the medium issues.
You Ain't Seen Nothin' Yet 
This is a movie podcast with Peter Helliar chatting to movie lovers about classic and beloved movies they haven't quite got around to seeing…. until now.
Neurotic News
The news broken down by two confused neurotics: comedians Damien Power and Dan Rath. Previously Power to The People.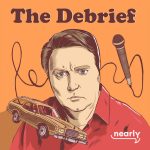 The Debrief
Be transported to Dave O'Neil's station wagon as he drives comedian friends home from comedy gigs and debriefs with other comics about that night's triumphs and disasters.