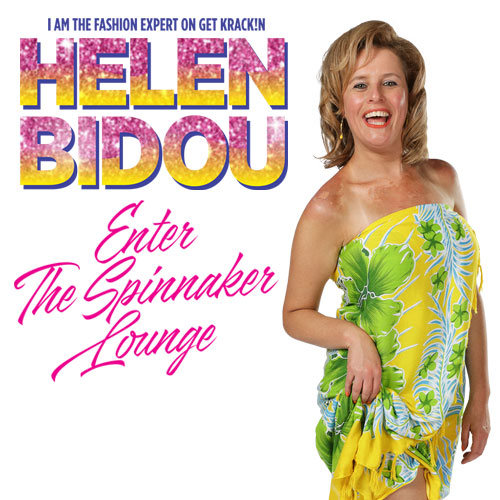 Helen Bidou – Enter The Spinnaker Lounge
WINNER Best Show Sydney Comedy Festival 2018
NOMINATED Best Show Melbourne Comedy Festival 2018
NOMINATED Best Comedy Show Helpmann Awards 2018 
Uh oh… they've let her on a plane.
Helen Bidou was the show that Melbourne audiences were clambering over one another to get to during this year's Comedy Festival. Tomorrow it's Hollywood, but for now the hurricane of Helen will whirl into Brisbane next with her adult son Connor Bidou.
Helen Bidou's debut into the world of live comedy saw the sarong-wearing, kiwi mojito-sipping suburban single mum sell out every seat at her inaugural comedy festival season. Despite adding extra shows throughout MICF, Helen Bidou performed to a full house every single night as word quickly spread about Australia's newest – and most unstable – comedy star. With her newfound fame as a comedian, Helen is destined for big things.
"Had us buckled over laughing, crying, whooping, wolf-whistling, panting… put it on your Bidou list." ★★★★★ Herald Sun, 2018
"A show like this can never be evoked in words." ★★★★★ Time Out, 2018
"A hysterical creation in both senses of the word, Bidou creates a wild hurricane around herself, which it would be futile to resist." ★★★★ Chortle, 2018
18+